Main Content
Home: About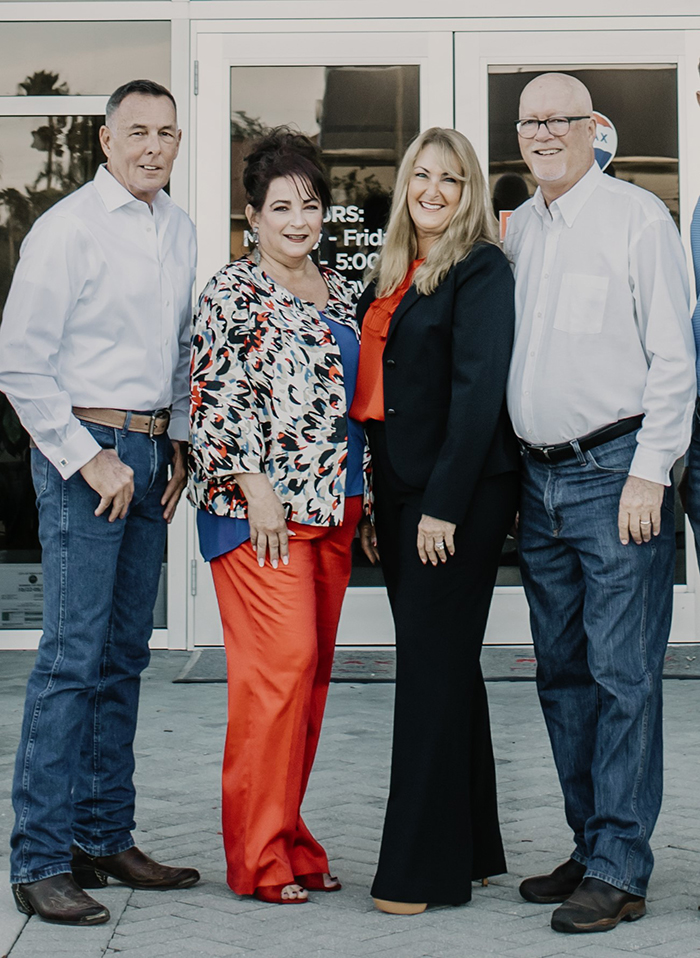 01
Welcome To The
Bevis Group
The Bevis Group comprises three dedicated professional realtors-Lyn Bevis, Bobbi Bevis, and Kurt Mehl, a full-time executive assistant-Jackie Blackburn, and a skilled marketing assistant-Heidi Polito. Together, we've completed over $761 million in lifetime sales and are in the Top 1% of the MLS Board. With more than 50 years of combined experience among our team members, we're confident we have what it takes to exceed client expectations by putting them first, prioritizing their needs, and focusing heavily on fostering positive professional relationships with them throughout the buying and selling process.
Lyn Bevis, co-owner of RE/MAX Harbor Realty and leader of The Bevis Group, has worked in real estate since 1979, earning countless awards and a reputation for putting the needs of his clients first over the last several decades. His wife and real estate partner, Bobbi, a fourth-generation Floridian, has also earned her fair share of notable awards, with a genuine passion and love for the Charlotte County region. The husband and wife duo are joined by Kurt Mehl, who not only serves his Punta Gorda community as a dedicated real estate agent, but also serves as a Detective with the Charlotte County Sheriff's Office.
Home: Testimonials
Five star all the way. They were great to work with and answered all our questions. Would definitely recommend them and would use them again if we ever decide to sell or buy. Love the area and can't wait to get back to the warm weather.
– zuser20140603152121708
Bobbi and Lynn Bevis are the best of the best ! Bobbi is a real "go getter" and does the job of the other realtor as well as her own. She is on top of all aspects of selling or buying a house.Always available....even when she is not on the job. Very warm and friendly but a "tough cookie " that is on your side.
– scottsmarble
Besides being a friend to a family member, and now a friend of ours, the group is worth their weight in gold. Bobbi has sold us our second home in two years. She also sold that first home in three weeks. She is an expert in the area and pointed out where we could get the most bang for our buck. Getting our first mortgage was so easy we went back to that company for the second house. She also assisted us with our homeowner's insurance and again those people are handling our insurance. She guided us to several other people to help us with things after the sale. We are very satisfied with our security system company. We are not fulltime residents yet, but Bobbi assisted us after the purchase of the first home and I'm sure she will help us with the new one. I wouldn't go to anyone else. Thanks Bobbi.
– guspolly
What a terrific realtor! We can't say enough great things about Bobbi. She is responsive, professional, knowledgeable, diligent, and thoughtful. She worked very hard and couldn't do enough for us! Thanks again,
– Joe and Jill Kiernan Effingham, IL
I can not express enough how great Bobbi with the Bevis group is to work with! She always is willing to answering any questions, quickly and honestly. She is always prompt to respond for requests for showings and her knowledge in real estate is priceless
– Carrie Gable
We give our highest recommendation for The Bevis Group! As first-time homeowners we were full of questions and had alot to learn, and Lyn was absolutely amazing. He is a true EXPERT (his depth of knowledge and background on every property was unbelievable!!)... and also kind, generous, and incredibly responsive! He helped us find our dream home, connected us with an amazing mortgage broker who made the process flow smoothly, and guided us through every aspect of purchase. We are sincerely grateful for The Bevis Team - thank you Lyn, Bobbi, and Jackie!!!
– mauraslack
Highly recommend Lyn Bevis and The Bevis Group! Lyn helped us find our dream home in 2015, and also guided us through a commercial condo purchase for our small business in 2013. Zillow describes it best - his level of expertise is truly "masterful." Lyn knows everything about everything when it comes to real estate - and if he doesn't he'll make the calls to know it all faster than you can imagine!
– jeremaura
Bobbi Bevis was exceptional is every way! Professional, personable and very knowledgeable. She gave us a thorough introduction to Punta Gorda as a "community" and a thorough education on the many properties she showed us. She was patient with our many questions and totally delightful to work with. We would not hesitate to recommend Bobbi 100%.
– aldycarol
Bobbi and Lyn are amazing. They found our dream home, helped negotiate a contract that led to a seamless and drama free closing. The Bevis group is the way to go in SWFL.
– bwyoungjr
The Bevis Group were an asset to my selling of my home. It was a seamless procedure for me. They handled everything with more patience than deserved with some of the potential buyers. They made excellent suggestions and negotiated well for us. There are realtors and then there is Bobbi Bevis. They are not in the same arena.
– user42721
Home: Gallery
08
Punta Gorda
Homes & Scenery







Footer: Contact Form
The Bevis Group is one of the area's most successful real estate teams and has helped hundreds of buyers
find their dream home in Charlotte County, resulting in over $750 Million of closed real estate transactions.